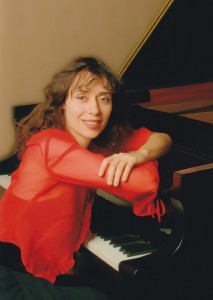 Dagmar Hartmann, the Duo's pianist, grew up in Karlsruhe where she began her piano lessons at the age of six at the Baden Conservatory. Later, she continued her piano studies at the Trossingen University of Music with Prof. Johan van Beek and Prof. Wolfgang Wagenhäuser. Her degree was followed by her soloist's exam and, in 1996, her chamber music exam. International master classes with Gaby Casadesus, Bruno Canino, Menahem Pressler, Leonard Hokanson and Karl-Ulrich Schnabel rounded off her musical education and gave important impulses and inspiration.
In 1997 she received a chamber music scholarship from the "Braunschweig Kammermusikpodium". Dagmar Hartmann performs as a soloist as well as in ensembles with very different castings. Her musical diversity is documented by numerous radio recordings, by her CD recordings with ARS (featuring works by Gershwin, Rachmaninov and de Falla) and with Palatina Viva (with works by J. S. Bach).
Since 2005 Dagmar Hartmann has been teaching at the Conservatory of Baden in Karlsruhe. She regularly gives master classes for piano and Chamber music in Germany and abroad.